Black Belt Leadership Academy has always been the leader when it comes to child safety and abduction awareness. We hold an annual "kick-a-thon" to raise money for the Jimmy Ryce Center for Victims of Predatory Abduction, located in Vero Beach, Florida. Don and Claudine Ryce lost their son, Jimmy, to a child predator and they have been instrumental in changing the laws regarding sex offenders.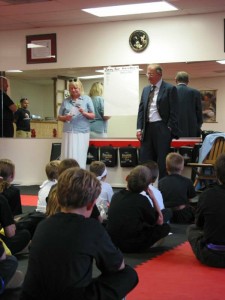 Don and Claudine Ryce speak with our kids
before our annual Kick-A-Thon (on the left).
We were able to purchase a bloodhound for Sumter County, Florida Law Enforcement.
In January 2009, we lost our friend, Claudine Ryce to a heart attack. Claudine and her husband, Don, have been child safety advocates since their son, Jimmy, was abducted and killed in 1995. They founded the Jimmy Ryce Center for Victims of Predatory Abduction in June of 1996. Through this organization, they have changed laws to keep child predators in prison longer. Their "Bloodhound Project" raises money to purchase bloodhounds that are donated to law enforcement agencies. Their hope is that a bloodhound is never more than an hour away from helping locate a lost or missing child.
On March 23rd, 2010, Florida Governor Charlie Crist inducted Claudine into the Florida Women's Hall of Fame for her tireless work protecting our children.
For more information, click on the links below: